Statement on the update of the ITS Directive 2022
Dear European Commission, European Parliament and Member States,
We thank the European Commission for keeping the C-ITS objectives in place and strengthening the European leading position being the only region with large scale deployment of C-ITS services today, saving lives and stimulating the reduction of vehicle emissions.
We thank the European Commission to recognize the difference between ITS and C-ITS, C-ITS not being just another Internet service but a safety service sharing information without any constraints, without an IP communication network, directly from user to user at the lowest costs.
We thank the European Commission to recognize the importance of interoperability and backwards compatibility, not wasting investments by making existing solutions obsolete when new technologies arrive. As this not only protects existing public and private investments but also encourages us to further invest in C-ITS knowing that these investments are guaranteed ensuring usability throughout their full life cycle.
We thank the European Commission to support further increase of road safety by stimulating the realisation of new innovative safety services by means of any existing and any new technology.
We thank the European Commission to recognize that further stimulation of the implementation of safety services by member states and industry is important to ensure no delays in creating safe roads.
The C-ITS Deployment Group members
Current deployment situation of vehicle communication technologies in Europe
Two distinct modes of communication for C-ITS:
Vehicle Ad-hoc Network (VANET)
and
IP-based (Internet)
Two compatible and interoperable modes of communication using the same language (via defined message types) and a single set of privacy / security mechanisms.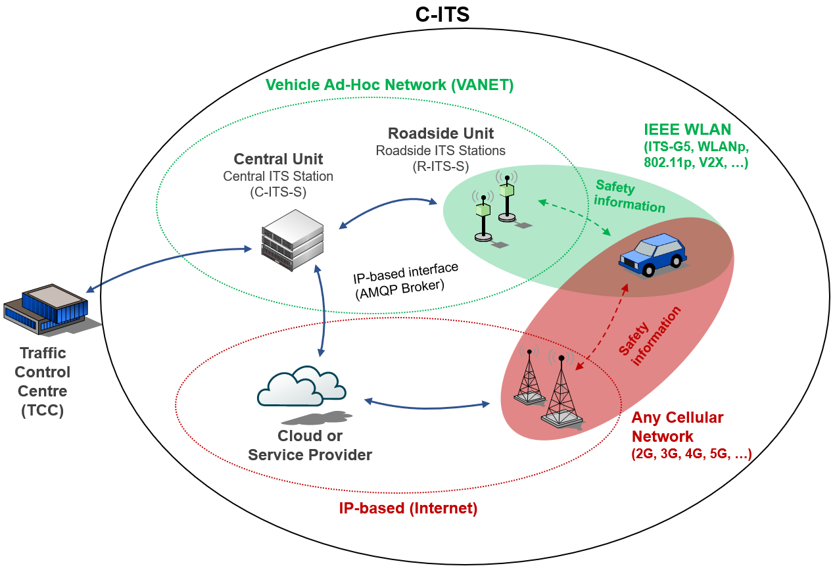 Status Vehicle Ad-hoc Network (VANET)
IEEE WLAN 802.11p / ITS-G5
Proven tested and widely available. Already exceeded ½ a million production vehicles (awarded by Euro NCAP) and thousands of road infrastructure systems partly operational today in Europe, including road authority vehicles and trailers.
Status IP-based (Internet)
AMQP Message Broker using Quadtree Geolocation
Provides a limited set of the same C-ITS messages as by VANET with possible network dependent delivery delays via IP-based communication. Fully compatible with whatever generation of IP-based cellular communication (2G, 3G, 4G, 5G, …). Currently being piloted in Europe (without awareness messages due to timing requirements and network capabilities).
Text proposal for the revised ITS Directive
Explicit reference to the principle of technology neutrality is not an ITS Directive responsibility. This responsibility lays with the spectrum regulation as recognized by spectrum regulators1)
Recognition of the evolutionary path of technologies and focus on the principles of cooperative interoperability and continuity of services. In VANETs, this has to be assured by interoperability and backwards compatibility for any technical solution, through the embrace of existing systems instead of locking them out, to realize the possibility that all interested parties can participate in the C-ITS community
Ensuring a holistic C-ITS evolutional environment, by allowing any service to be realized by any means of technology, as long as seamless operation of any existing interoperable C-ITS services is ensured, and other systems are not interfered
Improvement of the current interoperability definition by stressing the importance of system and service-level interoperability when exploring new services, to guarantee continuity of services without discriminating existing services and their implementation ensuring investments along the lifecycle.
1) Technology neutrality and avoidance of in-band and out-of-band interference within the 5.9 GHz ITS Band (5855 – 5935 MHz) is ensured in spectrum regulation via CEPT Report 71 and ECC Decision (08)01 (polite spectrum access) as well as Directive (EU) 2019/520.
The C-ITS Deployment Group's Objective
The Members of the C-ITS Deployment Group are focused in realizing safe roads and reduce pollution. By principle, they are not interested in technology, other than to realize the functionalities they envision.
The Members use whatever technology, wherever useful, to realize their functional objectives.
The Members make decisions based on technical availability and will be open for any solution to resolve upcoming challenges, but only embrace new technologies that ensure the continuity of existing solutions and provide functional and cost benefits.
The Members have recognized that, so far, C-V2X cellular VANET technologies do not comply to their functional needs. C-V2X is not "inter-system interoperable"2) and no solutions are provided to not interfere with any other system in the 5.9 GHz band or the adjacent 5.8 GHz band. We are looking forward to the situation that this is resolved so we can start evaluating C-V2X technologies.
The Members are looking forward to the additional benefits that IP based 5G cellular solutions may bring, but are concerned about the inter cellular network operator cloud service handover, as no business models are yet foreseen, nor operator interest noted.
2) No technical interoperability between C-V2X solutions from different suppliers and no interoperability between LTE-V2X and 5G-NR VANET technologies exist today!